SMA Wins 2014 Canadian Consulting Engineering Award of Excellence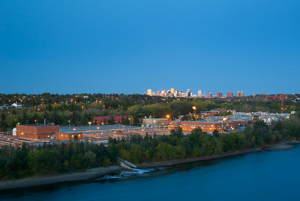 SMA Consulting Ltd. has won a 2014 Canadian Consulting Engineering Award of Excellence from the Association of Consulting Engineering Companies- Canada (ACEC), along with its project partner, Cybertech Automation, for their work on EPCOR's Gold Bar Thickener/Fermenter Operational improvements project in Edmonton, Alberta.
Innovative Wastewater Strategy Development
The project involved developing operational improvements for EPCOR's Gold Bar Wastewater Treatment Plant (GBWWTP), located in Edmonton, Alberta. SMA Consulting and Cybertech Automation worked with EPCOR to develop a comprehensive automated operational strategy for addressing a key bottleneck, the thickener/fermenter tanks, and simulated the operations of the tanks to allow EPCOR to test various strategies for handling loads safely. Cybertech suggested a new method for wastewater strategy development, embedding their process controls personnel in a team of EPCOR operators and managers. Once a draft strategy was in place, SMA developed a combined discrete event and continuous simulation to capture the solids flow in the system using real minute-by-minute input data incorporating both the new automation and the new strategies for operators.
High Honours
Located in Edmonton, SMA Consulting solves complex issues for construction projects. Its expert team uses integrated, proven techniques to enhance planning, safeguard success, and give clients clarity and control on their projects. For 46 years, the Canadian Consulting Engineering Awards have celebrated excellence and innovation in consulting engineering. They are the highest honours for achievements by Canadian consulting engineering firms and were announced on October 23 at a prestigious gala in Ottawa.