SMA receives two Awards of Excellence at 2017 CEA Showcase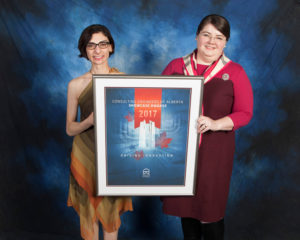 SMA Consulting Ltd. was honoured to receive two awards at the 2017 Consulting Engineers of Alberta Showcase Gala, which was held on February 24 in Edmonton.
The project submitted was a special study undertaken for EPCOR ("Quantifying Exposure to Biological Hazards for Wastewater Personnel"). This complex study took a cross-disciplinary approach that integrated worker safety, independent microbiological research, and Monte Carlo simulation to build a model of the risks associated with the exposure of wastewater treatment plant workers to waterborne pathogens (including bacteria and viruses). The project won the Award of Excellence for the Small Firm – Big Impact category, as well as the Award of Excellence in Studies, Software and Special Services.
We would like to congratulate the team members from SMA and EPCOR who contributed to this project, and to congratulate all the nominees and winners from the event. We extend our thanks to the Consulting Engineers of Alberta for organizing and hosting another successful gala.