SMA Receives Two Awards at the 2018 CEA Showcase Gala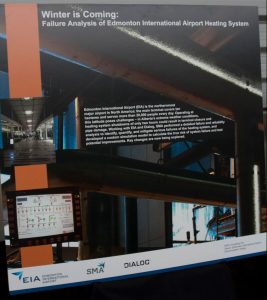 SMA Consulting Ltd. was honoured with an Award of Excellence – Small Firm, Big Impact and an Award of Merit for Studies, Software, and Special Services for their work on Failure Modes, Effects, and Criticality Analysis Study of Edmonton International Airport Heating System. SMA was presented with the awards at the 22th Annual Consulting Engineers of Alberta (CEA) Showcase Awards Gala on February 23rd of 2019 in Edmonton.
Working with EIA and DIALOG, SMA performed a detailed failure and reliability analysis to identify, quantify, and mitigate serious failures of the heating system at the Edmonton International Airport, and developed a custom simulation model to calculate the true risk of system failure and test potential improvements. These changes are currently being explored for implementation.
We would like to extend our sincere congratulations to members of the project team and all other winners and nominees. Thank you to the CEA for hosting yet another successful gala.
You can read more about the winning projects here.