SMA Receives Award of Merit for the Arlington Bridge at ACEC-MB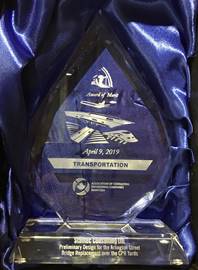 SMA Consulting Ltd., as a part of the Stantec Arlington Bridge Project Team, has received an Award of Merit for their contribution to the Preliminary Design for the Arlington Bridge Replacement over the Canadian Pacific Railway Yards (CPR Yards) at the 20th Annual Association of Consulting Engineering Companies – Manitoba (ACEC-MB) held on April 9th at the Metropolitan Entertainment Centre.
We would like to congratulate the other team members on receiving this awards. Congratulations also goes out to all of the nominees and winners from the night. Thank you to ACEC-MB for recognizing the work of the Arlington Bridge Team.
You can read more about the winning projects here.
Photo credits: Stantec Consulting